This tutorial is a step-by-step walkthrough that explains the installation of Jobulator Mobile on your iOS device. You can follow these instructions and download/activate Jobulator on your iPhone, iPad, and/or iPod touch.
Jobulator Download
To begin using Jobulator mobile on your iOS-powered device (iPhone, iPad, iPod touch), open the App Store on your device and select the  Search Icon. You can then type in "Jobulator" to locate the app. 
This will take you to our page in the App Store. Tap Get, followed by Install.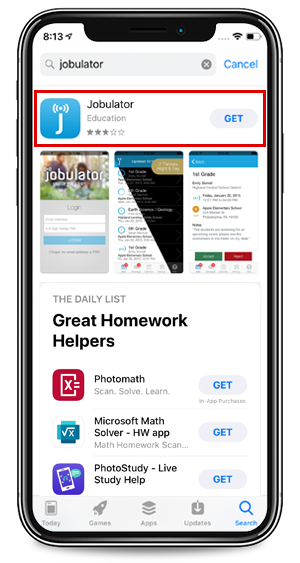 Apple Requirements
You may be prompted to enter your Apple ID Password. This Apple password is linked to your Apple account. (It is not your Absence Management account password.)
If you do not have an Apple ID on your device, you may be prompted to create one or to add a "credit card" to your Apple account. This payment information is an Apple requirement and is not affiliated with Jobulator. *The Apple information does not indicate that you need to pay for the Jobulator application in any way.
Jobulator Activation
Once the download is complete, simply locate the Jobulator app icon on your device and tap on it to open Jobulator.  The program will ask you to enter your login credentials. (*At this time, all users should select "United States" as their Country.)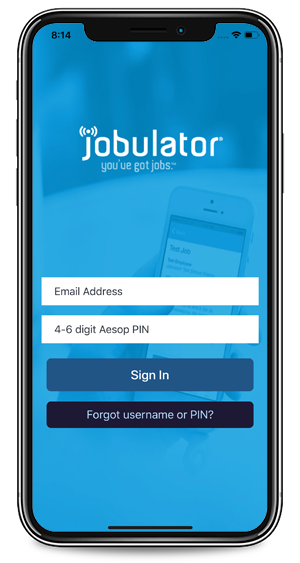 Enter your User ID (the email address you used to sign up for Jobulator) and your PIN number and tap Sign In.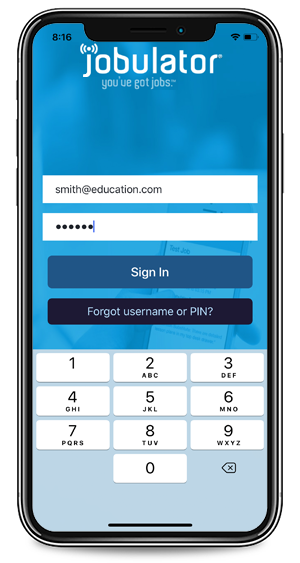 Not sure which email address to use?
If you have not already done so, please sign up for a free trial of the service on the Free Trial tab of the Jobulator website, www.jobulator.com. If you have already signed up for a free trial but forget the email address you used to sign up, contact our support team by reaching out to us on our webform. Let us know your name and Absence Management ID/Phone Number. We'd be glad to reply with your User ID / Email address.
As soon as the Email Address and PIN number have been verified, your Jobulator mobile app activates and begins notifying you of available jobs.
---