This tutorial provides an overview of the Calendar tools provided in Jobulator Mobile for Android. You will learn how to review your schedule with the quick online calendar integration as well as set up and integrate with your mobile device's calendar apps.
Absence & Substitute Management Calendar Integration
Android users can easily access their schedule of accepted jobs by clicking the "Calendar" tab (located in the Navigation Bar at the bottom of the app). This tool highlights (in blue) any days you have a scheduled job, and it also indicates which days are a non-work day.
Keep in mind, only jobs for districts who allow the use of Jobulator can be shown in this calendar.
You can also select the Aesop Calendar button to log in to your Frontline Education's Absence Management account (formerly Aesop) and view more details of a particular job.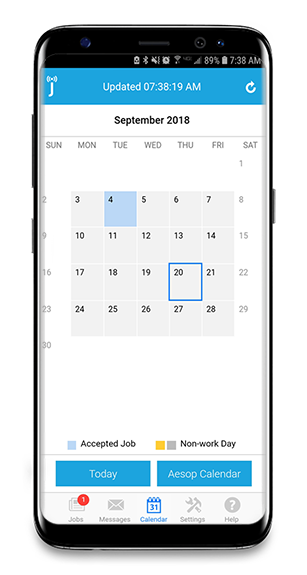 Integrating with Your Device's Calendar App
Using the Calendar App integration
While the integrated online calendar is quite convenient for seeing your schedule at a quick glance, it will not notify you of upcoming jobs. For that, you must save this job to your Android's Calendar app.
You can use the calendar app each time you accept a job by tapping the "Add to Calendar" button. (If no calendars are available, please skip to the "Setting Up Your Calendar App" section below.)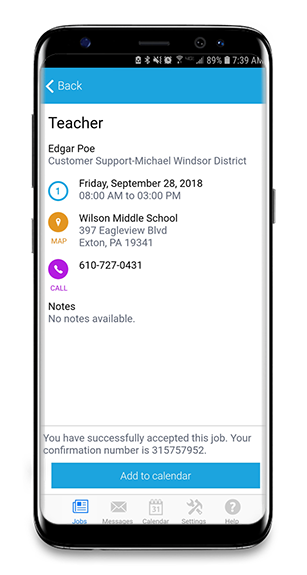 Take note, if multiple calendars are available, Jobulator will ask you which calendar you wish to use.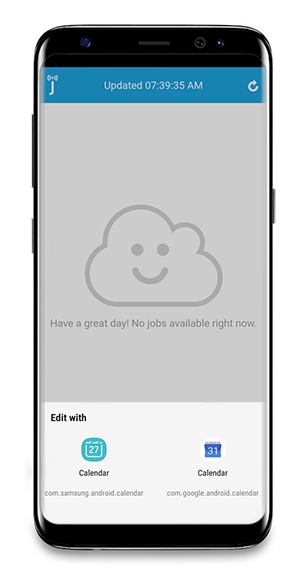 Once a selection is made, Jobulator will add the shift to your calendar, and you can further review and edit its details, if necessary.
By default, Jobulator will show the location of the job (if available through Frontline's Absence Management) in the summary information. Tapping on the Job on your calendar reveals all the event details including the School, times, date, address (if available), district, teacher's name, position, confirmation number, and any notes.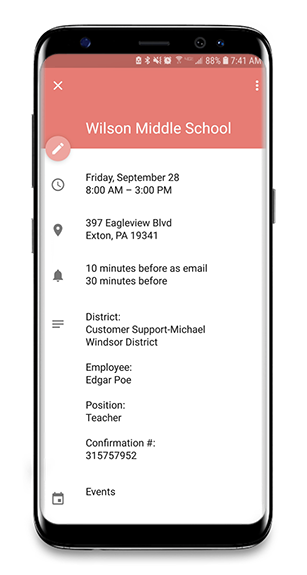 Once the details are saved, you can view the job and receive an event alert through that calendar.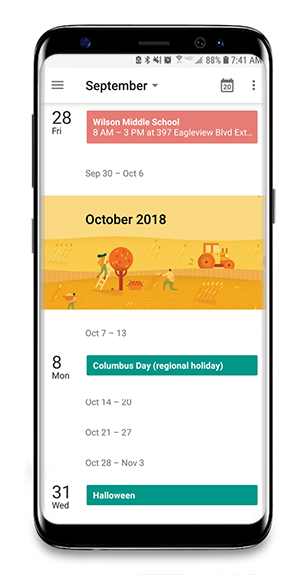 Setting Up your Calendar App
If Jobulator does not seem to be adding the shifts to your calendar, you may need to set up your Calendar App account. While this may be different from device to device, the following should provide the basic guidelines necessary for setting up your calendar app /widget.
First, verify that you have a calendar account established or create a new calendar account by opening your calendar and tapping the Menu button followed by Manage Calendars.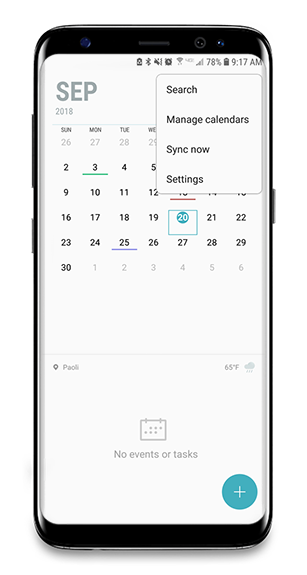 Here, you can adjust your Calendar settings as well as "Add Accounts." Most Android uses will have a Google account already setup with their phone.
Next, check to see which calendars are actively being displayed by the calendar app. This can be done by clicking on the Calendar dropdown in the upper left hand corner of the app. Only the selected calendars will actually appear in the calendar app or widget.