To log in to the Jobulator app (or to access your account via Jobulator.com), use the email address you used to create your Jobulator account as your login ID.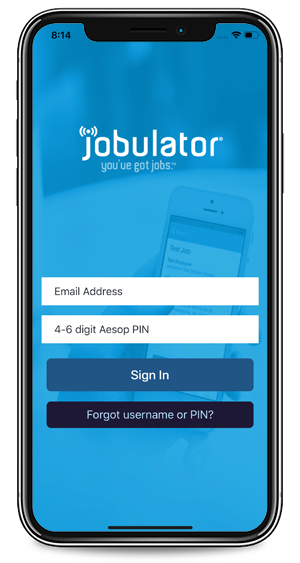 Your Jobulator login ID differs from your Absence Management credentials in the following ways:

| ID Details |   |
| --- | --- |
|  - Jobulator ID1 | Email address (that you used to register at Jobulator.com) |
|  - Absence ID | Phone number (used over the phone and at Aesoponline.com for some users) |
|  - Absence Username | Self-created username for districts using the Frontline Insights Platform. (You can find your Insights Platform username by clicking "I forgot my ID or username" option on the Absence Management sign-in page.") |
Additional Notes
Of these options, you would log in to Jobulator with the email address specifically affiliated with the creation of your Jobulator account.
Need help with your PIN?
Reference this
article
for more information.