What does this mean? 
This message may appear if you click the Details button for a job that is no longer available.
This situation indicates that one of two things may have occurred between the time that Jobulator notified you and the time you clicked the "Details" button.
Scenario 1: Another sub already accepted the job.
Scenario 2: The teacher or administrator is currently editing the job.
How do I fix it?
If another sub accepted the job just moments before, we recommend you review your refresh rate interval. A faster refresh rate will help avoid any confusion and allow the system to quickly identify jobs.
To review your setup, click on the Settings tab within your Jobulator app.

Check the Refresh Interval setting and ensure it is set to one minute. If you need to make an adjustment, simply click on the range meter and move it to the far right until it states "Check every minute."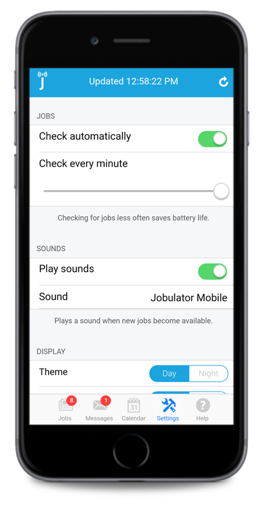 This will ensure that Jobulator checks your Absence Management account for new jobs as often as possible!
If the job is currently undergoing edits by the teacher, we recommend you click the Refresh button to check the job's current availability. Provided it was not deleted, the job should reappear once the teacher completes his/her edits.