Substitutes who work in multiple districts can create a multi-district PIN and view all their alerts within one Jobulator account.
Creating a Multi-District PIN
To receive alerts for more than one district, you will first need to log in to the Absence Management application and create a multiple district PIN.
Once logged in, the Absence Management system will recognize that you work in different districts and prompt you to complete the PIN setup (as seen in the image below).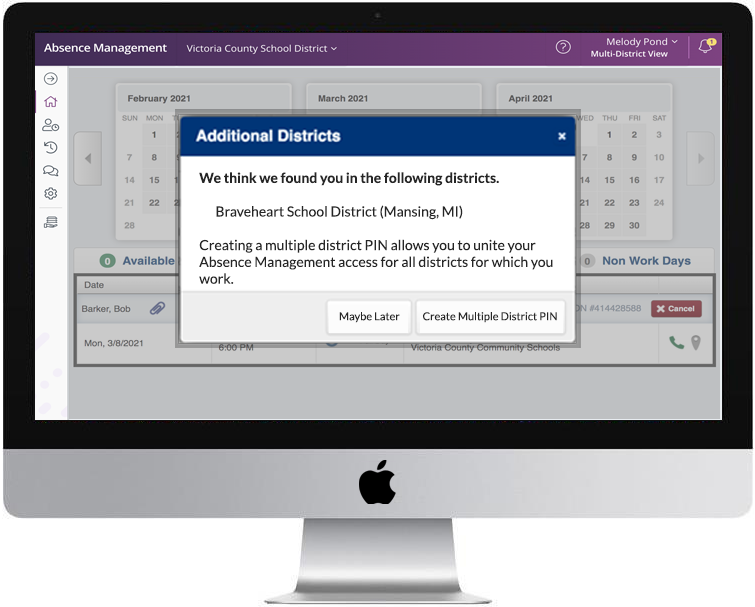 If you have any questions, please log in to the Absence Management application and select this
link
for a detailed walkthrough on the PIN creation process.
Confirming Linked Accounts
After the multi-district PIN is created, you can confirm your different districts are linked via your Jobulator account.
Log in at Jobulator.com and review your specific Account setup. The system will indicate all your linked districts under "Activated School Districts" and will provide job alerts for all locations listed.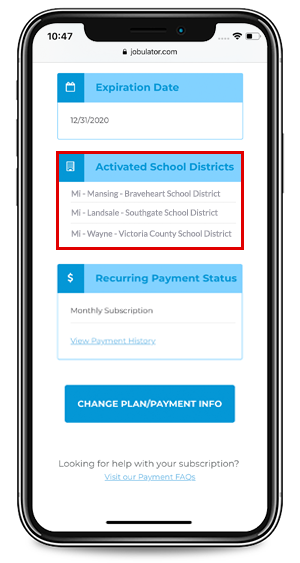 Addressing Additional Scenarios
If you have additional questions, please review the brief FAQ below:
Question: Why do I not see a particular school district in my district list?
Answer: Some districts may restrict access to the Jobulator application. These districts will not appear in your "Activated School Districts" list, nor will they appear under the alerts on your device.
Question: Can I adjust my existing district list?
Answer: You can filter/remove a district using one of two methods, but you will need to perform the adjustments within your Absence Management application. You cannot adjust the district list through your Jobulator account.
As a first option, go to Preferences > Schools in the side navigation of your Absence Management application.
Select a district and click the checkboxes beside the schools to add or remove visibility for a given location. A selected school will prompt Jobulator to post job-related alerts in Jobulator, and an un-selected school will cause jobs to not appear within Jobulator.
Determine your preferences and click Save to complete the process.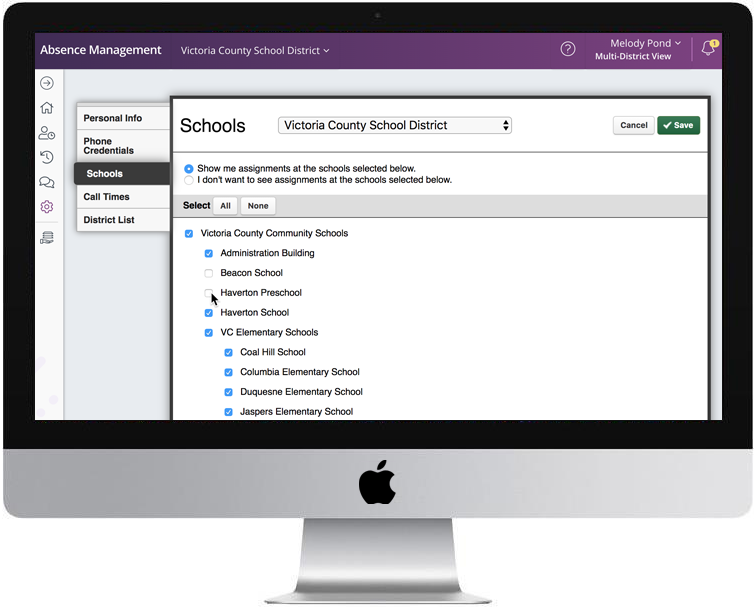 As a second alternative, those who no longer work within a district can contact their district administrator directly and have the admin remove them as an active substitute within that district.
If a problem persists and a district still does not appear, please feel free to submit a request to contact the Jobulator support team.