You can log in to both the Jobulator app and Jobulator.com using the email address you first provided during the creation of you Jobulator account, as well as your 4-6 digit Absence Management phone PIN (formerly known as Aesop).
User ID
Your Jobulator login ID differs from your Absence Management credentials in the following ways:

| ID Details | |
| --- | --- |
| - Jobulator ID1 | Email address (that you used to register at Jobulator.com) |
| - Absence ID | Phone number (used over the phone and at Aesoponline.com for some users) |
| - Absence Username | Self-created username for districts using the Frontline Insights Platform. (You can find your Insights Platform username by clicking "I forgot my ID or username" option on the Absence Management sign-in page.") |
Additional Notes
Of these options, you would log in to Jobulator with the email address specifically affiliated with the creation of your Jobulator account.
---
PIN
Jobulator uses the same PIN that is used to access the phone system for your Absence Management account. That said, it is important to note the following callout:

---
Login Pages
The login process appears similar to the following examples:
Mobile App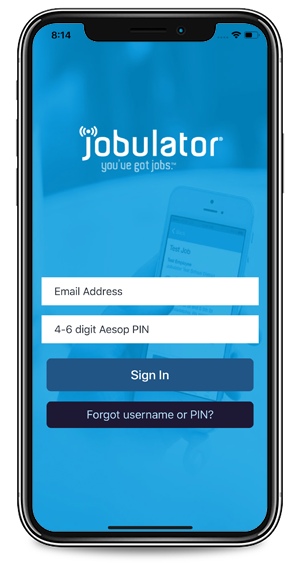 Website